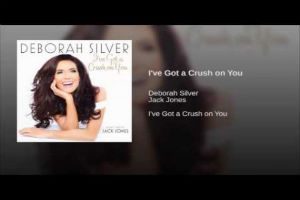 Recording artist, Deborah Silver has found her niche as a contemporary vocalist in tune with the waves of musical evolution and sound. A Mississippi native, Silver is a melodic, soulful artist who paints her life with the canvas of music. She follows her heart and finds inspiration at the root of emotional expression. Silver discovered her inner passion for music from listening to a wide range of genres from Mississippi Blues to Broadway classics.
The Gold Standards, Silver's latest project, displays her dynamic range as a singer, songwriter, and music interpreter. Silver collaborated with producers Steve Tyrell and Jon Allen in the studio to create her latest project, The Gold Standards. She also partnered with Alan Broadbent to find her take on each arranged song. Silver has a special gift of creating unique re-interpretations of familiar songs.
Silver takes on some of the world's most familiar songs on this project and transforms them into contemporary gems. "I've Got a Crush on You" features a special duet with Jack Jones. It is noted that legendary vocalists Sarah Vaughan and Ella Fitzgerald recorded earlier versions of this standard. Deborah Silver illustrates her emotional connection to the lyrics with heartfelt vocals that are as smooth as silk.
On "I Could Write a Book," Silver shows her storytelling abilities through music with expressive vocals that are soothing to listen to. Also, Silver covered the classic "I Can't Give You Anything but Love". Lady Gaga and Tony Bennett also recorded a refreshing version of this popular tune. Silver's modern, subtle version sets the tone in atmosphere of a live jazz nightclub. This specially arranged tune has a heartwarming feeling of nostalgia riding on the wave of modern arrangements.
Overall, The Gold Standards is a refreshing jazz album that re-invents the classics. Deborah Silver's vocal artistry and authenticity are displayed beautifully. This album is filled with the love Silver put into making each song an enjoyable listen.
What's next for Deborah Silver. According to Parade, Silver hopes and aspires to realize her dream to find herself in the studio recording a duet with Harry Connick, Jr.